Adjustable Foam vs. Adjustable Air
The difference is in our Comfort Control™ Technology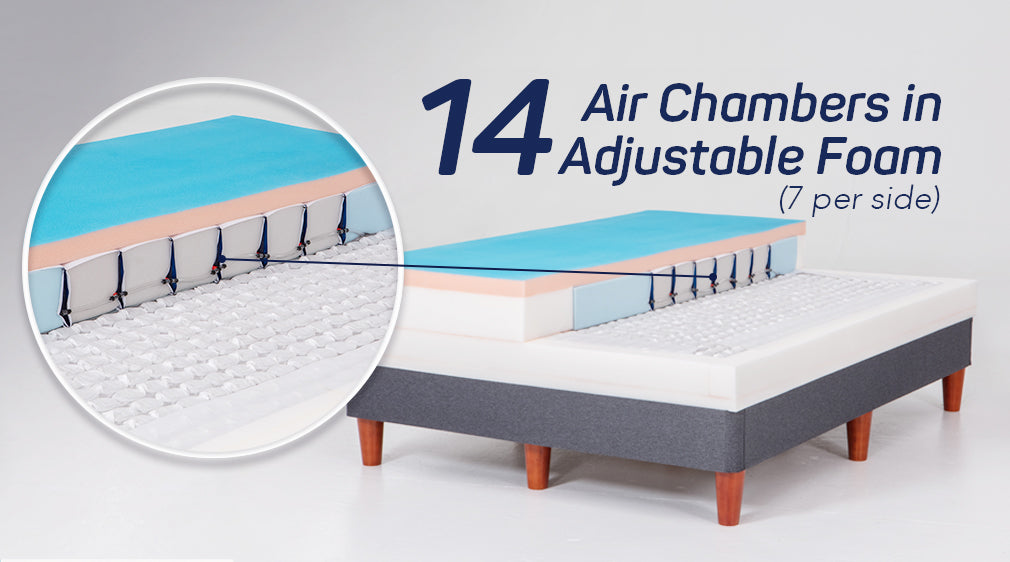 iSense Hybrid Premier
iSense mattresses are engineered with 14 air chambers, nestled between our premium iSense Foam to give you precise control of your comfort. Unlike an air bed, support comes from the premium pocket coils below the Comfort Control™ Technology.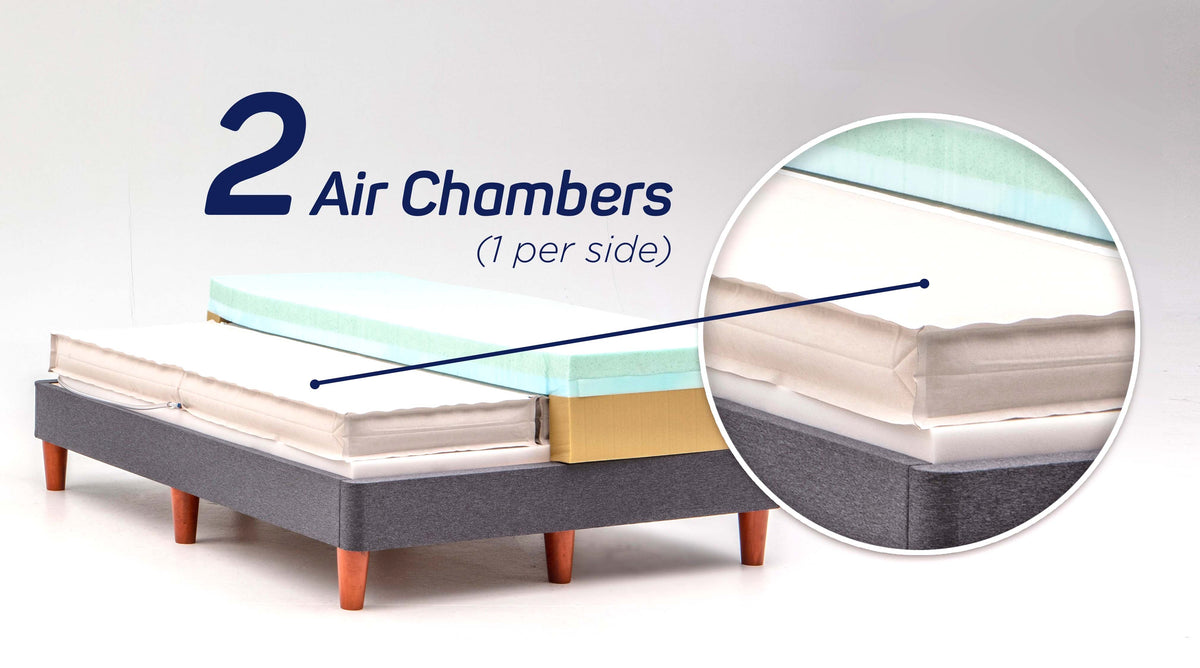 Sleep Number i10
Sleep Number uses two large air chambers to provide the mattress support and to vary the firmness on either side of the bed.
Do you want to sleep on an air bed?
Try the iSense Hybrid Smart Bed, instead.
What makes iSense different?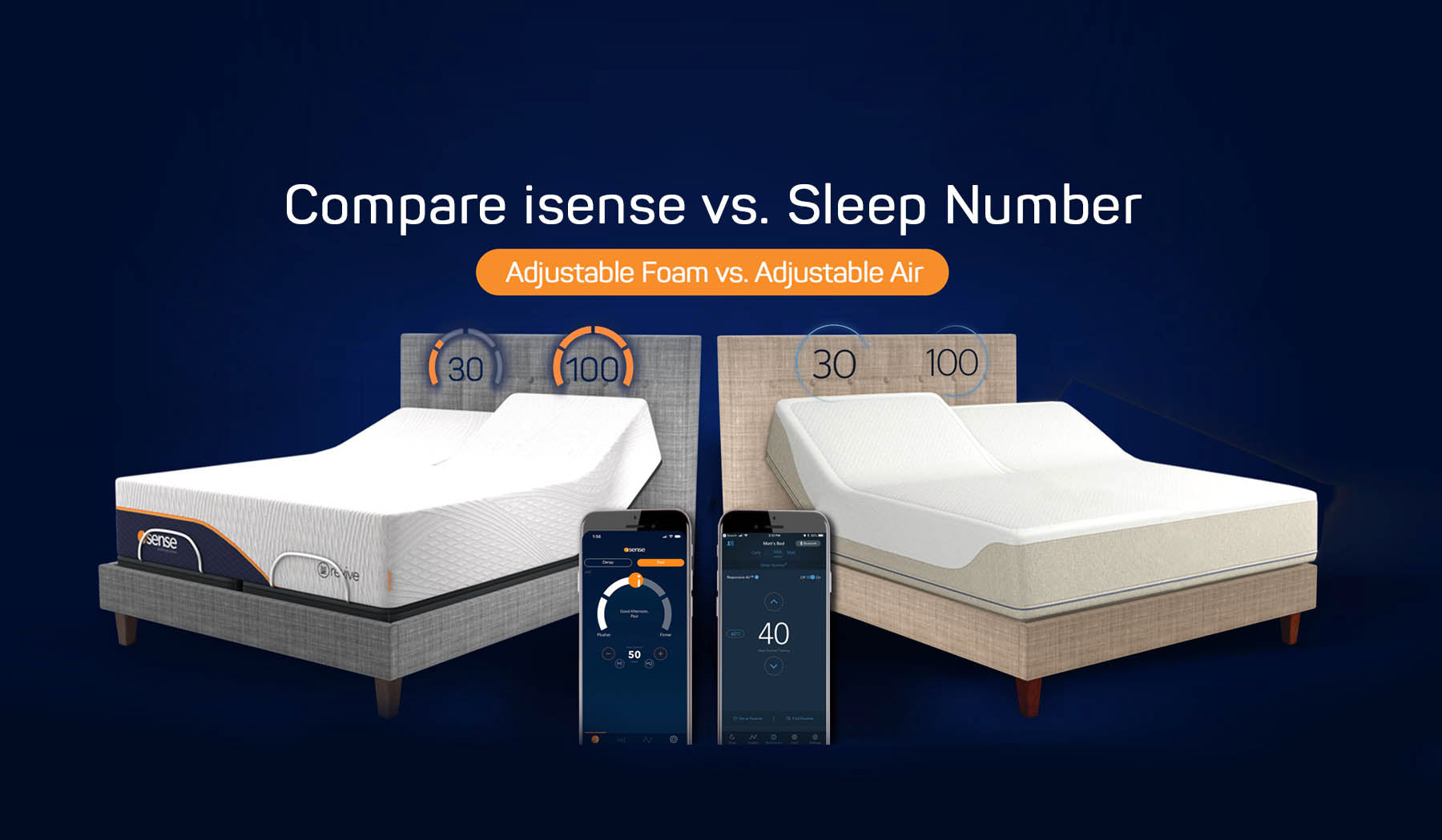 the best mattress for back pain
84% of iSense Customers Report Back Pain Relief*
iSense Eliminates Motion Disturbance
Watch what happens to the bowling ball when we apply pressure to each mattress. Because iSense has 7 chambers on either side, and is nestled into the foam, motion transfer is eliminated. However, a mattress like Sleep Number that is supported primarily by air behaves very differently. Air can be quite disruptive, and movement on one part of the bed easily transfers to other parts of the bed.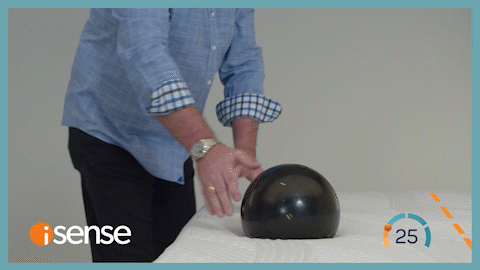 iSense Hybrid Premier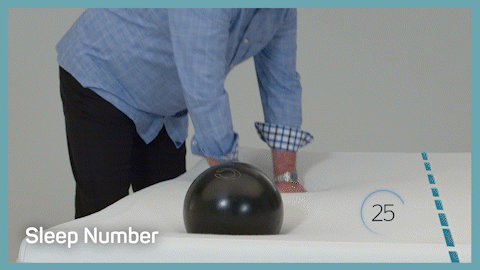 Sleep Number i10
The Cuddle Zone
We like to call the middle of the bed the "cuddle zone." When one person is on a firm setting and the other is on a softer setting, some mattresses have a "ledge" in the middle of the bed. Watch what happens when a bowling ball is rolled across the mattresses from a side with a firm setting side to a side with a plush setting. Having 7 air chambers on either side of the bed, the iSense mattress presents an even surface across the middle of the bed.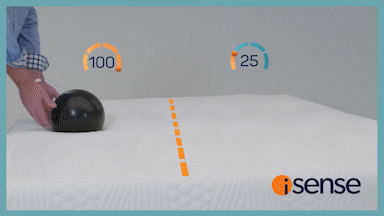 iSense Hybrid Premier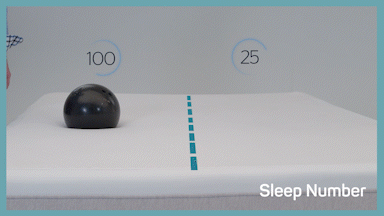 Sleep Number i10
Surface Evenness
When sleeping on a softer setting on a Sleep Number mattress, your body signature remains visible on the surface of the mattress when you exit the bed, as air has no ability to spring back. With iSense, the surface of the mattress will always recover regardless of your comfort setting.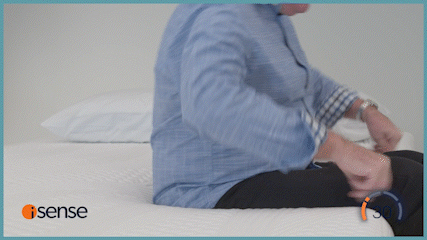 iSense Hybrid Premier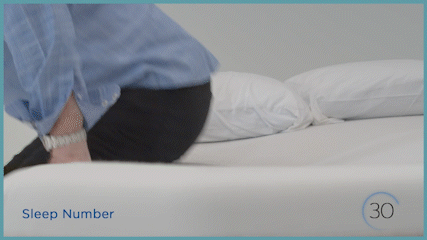 Sleep Number i10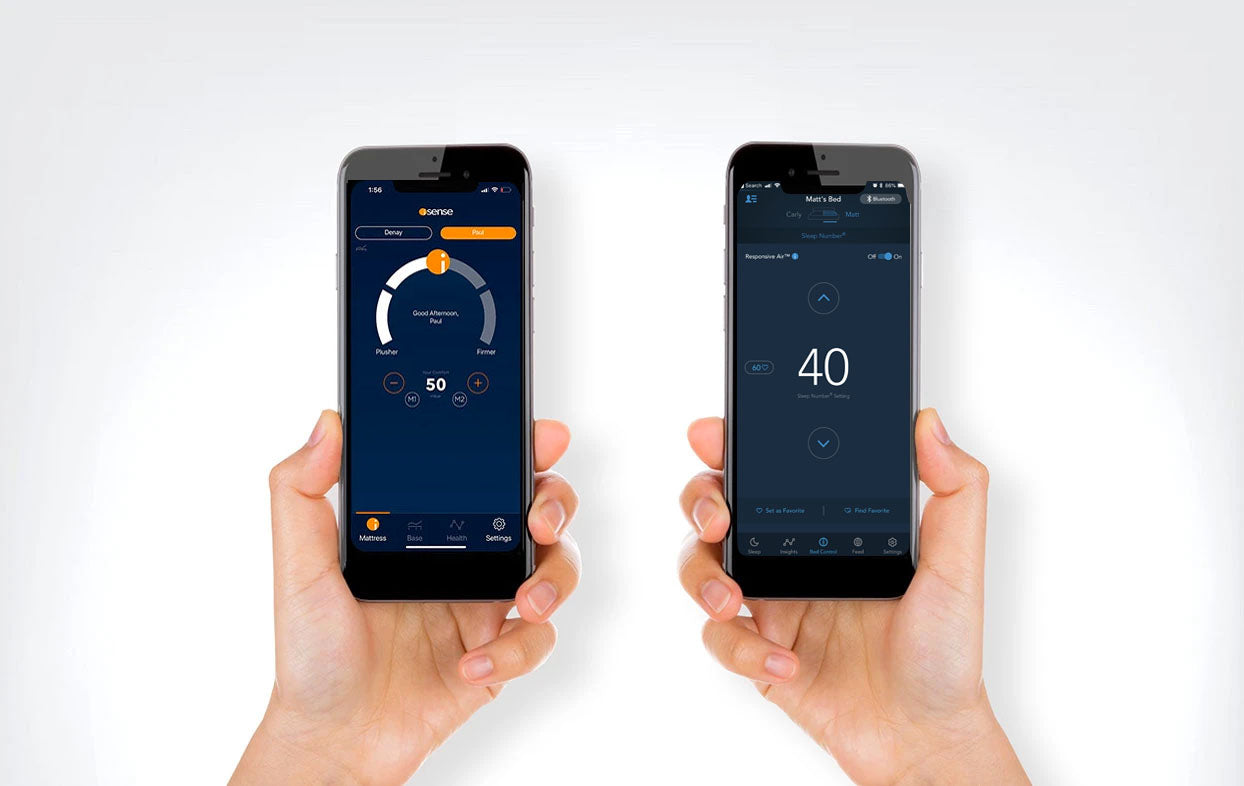 iSense adjustable mattresses are designed to change with the needs of real people.
Using our Comfort Control™ Technology, you can adjust the firmness of your mattress—and so can your partner. Our range of 40 support settings (20 on each side) helps you achieve your best night's sleep every night.
Hybrid Coil Support
Pocket coils provide you with the ultimate support system. And these are not your standard coils... iSense pocket coils are individually wrapped, so they are quiet and exceptional for reducing partner disturbance.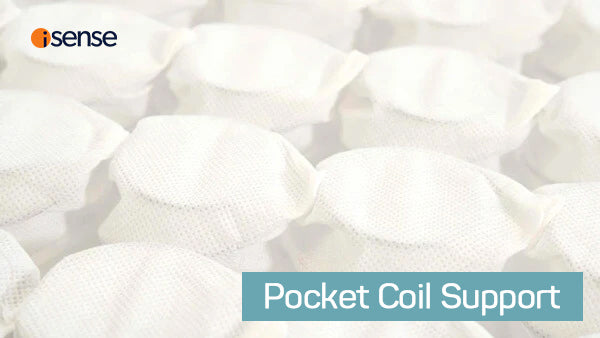 Pocket Coil Support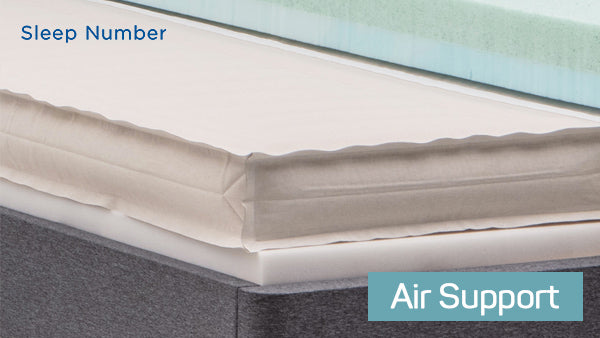 Air Support
Let's break it down.
How we Compare to Other Mattresses
Price, Delivery, Trial Period, Mattress Thickness.... compare it all!
iSense
Sleep Number
Tempur-Pedic
Sleep Trial
180-Night
100-Night
90-Night
Warranty
10-Year Limited
15-Year Limited
10-Year Limited
Free Shipping
Free Returns
Free Remote
Not Applicable
Adjustable Firmness
In-bed Sleep Tracking
Queen Price
(Everyday Retail Price)
$3,999
$5,499 (i10)
$4,199 (LuxeAdapt)
King Price
(Everyday Retail Price)
$4,499
$6,199 (i10)
$4,899 (LuxeAdapt)
Shop Now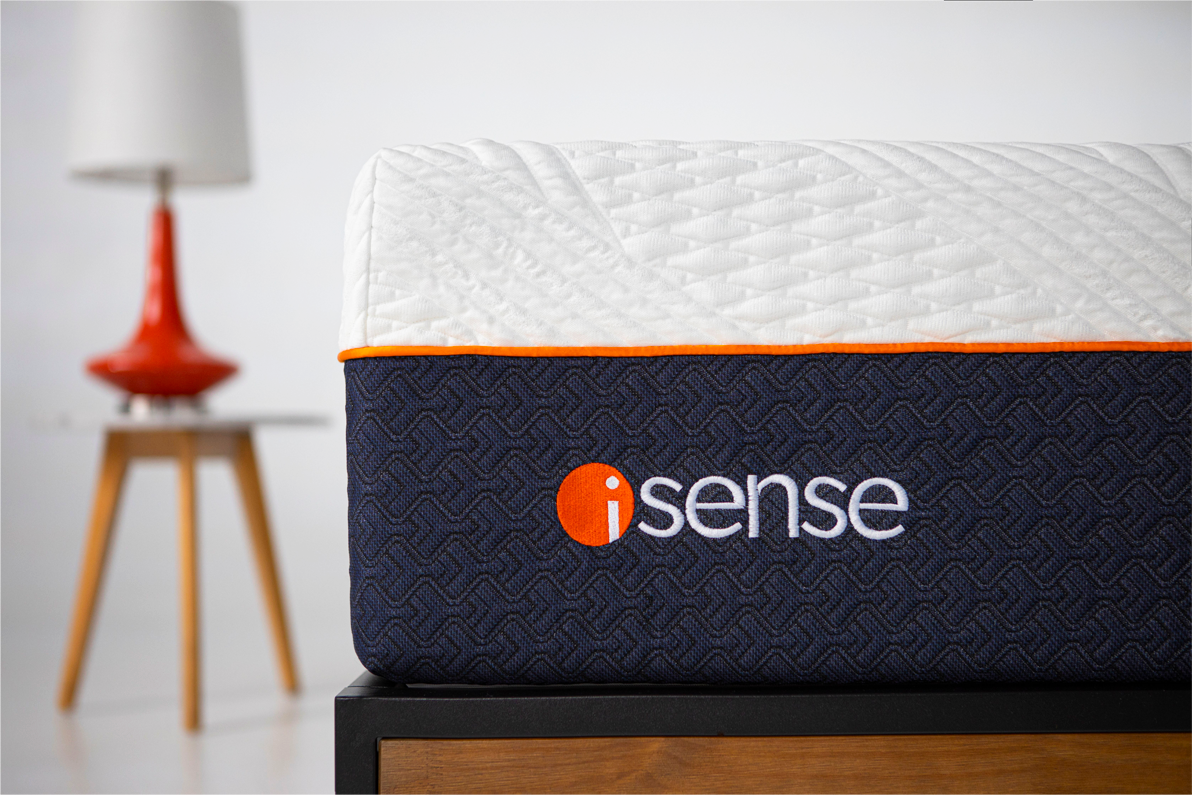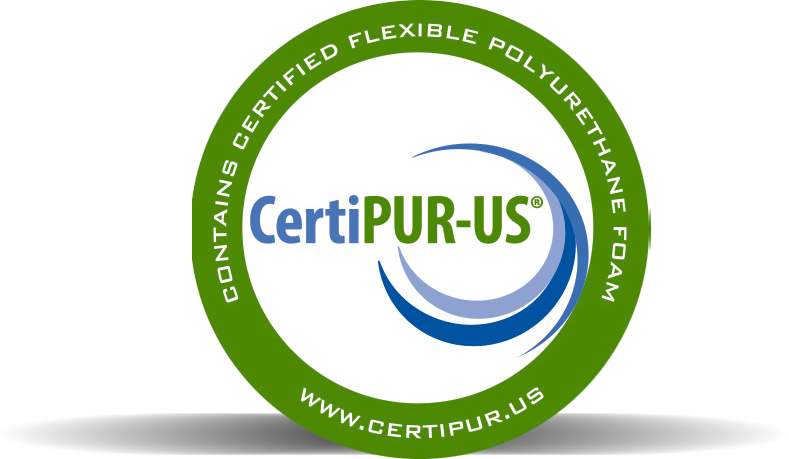 TRY OUR 100% RISK-FREE, 180-NIGHT COMFORT GUARANTEE
We don't like difficult returns, either.
No Return Fees, No Hassles, No Risks & Absolutely No Gimmicks.
If for any reason, you are unhappy with your iSense® mattress, you can return it for a full refund within 180 nights, after the first 45 days. Since all new mattresses and their owners need time to adjust to the ideal comfort, we require customers to keep the mattress for 45 nights before initiating a return.
materials
Sleep Soundly
Sleep with confidence knowing that the isense bed is certified by CertiPUR-US®. This means...

— Made without ozone depleters.
— Made without formaldahyde.
— Made without mercury, lead or any heavy metals.
— Made without PBDEs, TDCPP or TCEP ("Tris") flame retardants.
No Return or Restocking Fees, No Hassles, No Risks, and Absolutely No Gimmicks.
180-Night Comfort Guarantee
If, for any reason, you are unhappy with your iSense® mattress, you can return it for a full refund within 180 nights, after the first 45 days. Since all new mattresses and their owners need time to adjust to the ideal comfort, we require customers to keep the mattress for 45 nights before initiating a return.
First off, congratulations on knowing you want an adjustable mattress. iSense beds come with features and firmness settings that help with achy pressure points, relief of back pain, and total customization of the sleep experience, regardless of sleep position.

However, not all number bed mattresses give you the same levels of personal comfort. Sleep Number is an air bed that uses a pump to create adjustments inside an chamber of air under each sleeper. An air, or bladder mattress like Sleep Number (and other number beds, Air Pedic, Solaire and ProAdapt mattress) can take some load off the pressure scale, but because the air technology shifts when you move during sleep, like side sleepers rolling to their back, the air displacement can cause disturbance and sometimes change the bed numbers.

Our alternative to Sleep Number beds creates a focus on comfort without relying on air as the primary support system. We believe beds, and everything with them, should support the user. No matter if they have back pain, carry a little extra weight around their midsection, or just need their mattress to have side to side adjustability because they like their mattress settings different than their partner.

By using 14 special urethane chambers (7 on both sides) rather than one large air chamber on either side, we can improve your personal comfort in a much different way than most number bed mattresses and air mattresses. Our Comfort Control™ Technology feature works to change the firmness of the foam to give you firm support through to soft lux when you need it, on either side of the mattress, all from the touch of a remote control or the iSense Smart Bed App.

If you have other questions about our alternative sleep number beds, our shipping or delivery options, or how the construction of our foam layers helps your body rest more comfortably, contact us via our email address customer.service@myisense.com or check the bottom of this page on the website for a chat window.
Our Temperature Balancing Foam works both as a comfort layer and an airflow transfer system. It combines open cell construction, allowing the foam to breathe easily, and premium cooling treatments that reduce heat and make the surface cool to the touch. It offers so much more than simple memory foam.

Our type of foam is also Certipur U.S. certified, ensuring your comfort layer not only provides awesome pressure relief but keeps couples safe. You spend so much of your life on your mattress, make sure it's on your side. iSense leaves nothing to chance.
Some say beds that are old and can't adjust or track your sleep need replacement. Technology is adapting quickly, and mattresses, beds, and bed frames are catching up quickly too. Sleep Tracking, performance monitoring, smart mattress & smart beds, alarm wake system, it's like being in a full-on sleep trial every night! Everyone is looking for an edge in getting their best night's sleep and improving their personal comfort settings.

A Smart Bed (like iSense, Sleep Number, Personal Comfort, Air-Pedic, Sleep Saturn, etc.) can use sleep tracker data built into the mattress or pillow to help track the details your sleep. Heart rates, respiration, waking up and tossing, even down to the different levels of sleep can all be tracked and sent to your smartphone. It's a lot! Sleep tracking doesn't get any better than non-wearable technology! Start your Better Sleep In-home Trial Today.
Most adjustable mattress searches are compared to Sleep Number as it has the longest history and national exposure as an adjustable air mattress company. Alternatives to Sleep Number Mattresses and products come in a few different forms, at different costs, and can range in size from Twin size to Full size to Queen to California King. The iSense, Sleep Number, Air Pedic, and Personal Comfort lines include:

Adjustable Foam Mattresses
iSense Revive Hybrid Premier Mattress
iSense Refresh Foam Classic Mattress

Adjustable Mattresses - 2 air chambers in the bed
Sleep Number bed i10 Mattress
Sleep Number bed i8 Mattress
Sleep Number c2 bed
Air Pedic 800
Personal Comfort A2 bed
While an adjustable mattress gives you the exact personal comfort you need while sleeping, there are times you need more. Want your feet to raise for some needed pressure relief? How about your head and chest lifted while reading your latest crime novel? Pairing an adjustable base with a Sleep Number alternative mattress creates numbers of options for the perfect comfort layer of support materials and functionality.

Ever since Leggett Platt got people off the floor by introducing the world to adjustable bed foundations (with models like their Platt Prodigy 2.0), people have clamored for split king mattresses to lift their head and feet. Our best Sleep Number alternative, the iSense Revive Hybrid Premier Mattress pairs beautifully with our Elite Adjustable Bed Base, creating a truly customized sleep experience – almost like sleeping in zero gravity.

No matter if you are looking at a classic series or an innovation series option, one you start your comparison reviews, there's no doubt that a flextop base is one of the best accessories and investment value piece of furniture in your bedroom. It works with a headboard and requires little-to-no assembly. No matter the name on the page, adjustable bases are here to stay and make the perfect complement to your number bed purchase.
The iSense Hybrid Premier compares to these Sleep Number models:
Sleep Number 360 i8 Smart Bed
Sleep Number 360 i10 Smart Bed
Sleep Number 360 iLE Smart Bed
The iSense Classic mattress compares to these Sleep Number models:
Sleep Number 360 p5 Smart Bed
Sleep Number 360 pSE Smart Bed
Sleep Number 360 p6 Smart Bed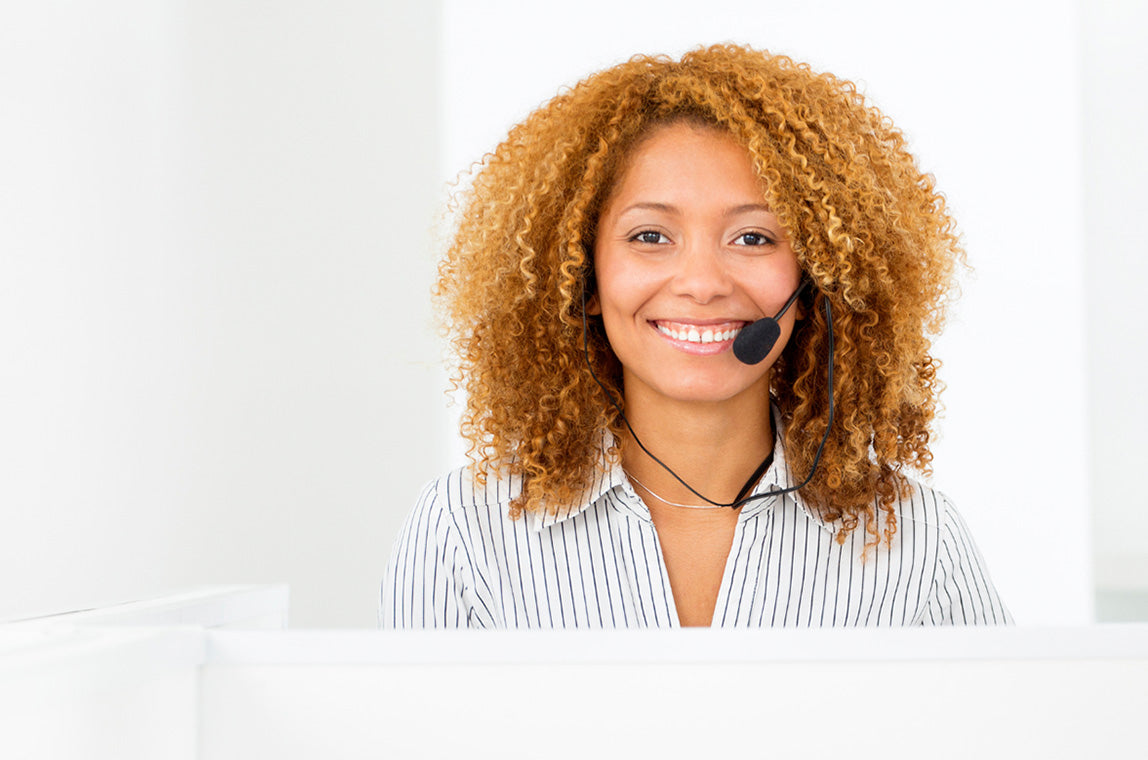 Check a mattress off your list today. And move on to what really matters.
We know what matters most is you sleeping well enough to feel ready for each day—not the process of buying a mattress. That's why we offer some of the absolute best customer service on the market. We want the process from order, to delivery, to setup, to returns to be as simple and easy as possible.
When you buy from iSense, you can trust we are on your side. We want to help you be your best self for those who need you most.
*Based on a survey of 200 iSense customers. 70% of customers claimed to have back pain before purchasing their mattress.75% of those customers said their back pain has improved since sleeping on their iSense mattress.